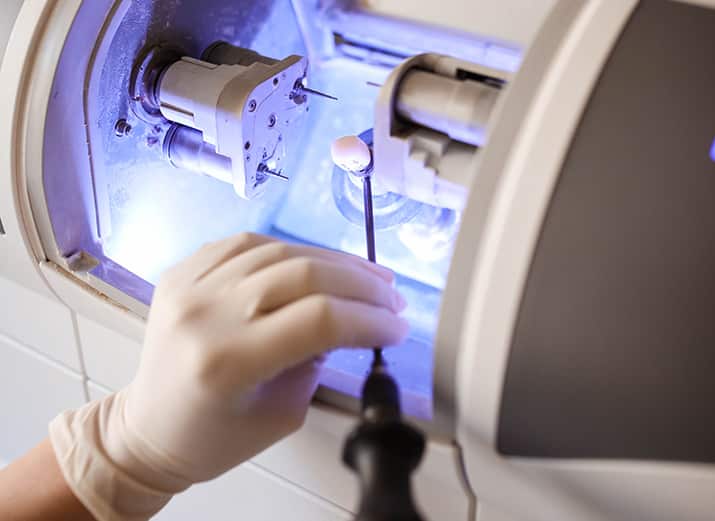 Cerec Same day Crowns
Have you had crown work done? Have you had to take time out of your busy schedule for two dental appointments for this procedure?
Pinnacle Dental is excited to offer our patients Porcelain CEREC same day restorations. Cerec is a method of designing porcelain crowns, inlay and onlay restorations (fillings) for our patient's right in our office, with only one appointment required.
Cerec crowns are fabricated with a block of porcelain, in office with readings from a digital impression of your tooth. They are made to fit the exact dimensions of your tooth preparation and are cemented on your tooth all in the same day.
Our Same day Crown Cerec Machine, can also fabricate stronger porcelain filling restorations, with the same process above.
Porcelain Fillings VS White Filling Material
| | |
| --- | --- |
| With Porcelain restorations patients will have little to no sensitivity | White filling material can cause temperature and pressure sensitivity |
| Porcelain is stronger material that has similar properties to natural tooth structure | White filling material or Composite is a hardened plastic and has limited ability to with stand extreme forces. |
| White filling material or Composite is a hardened plastic and has limited ability to with stand extreme forces. | Composite filling material is placed inside the cavity preparation and cured with a light to harden the material. |
| On average a porcelain restoration will last 15-20 years | A composite white filling restoration will last 5-7 years. |
Call Pinnacle Dental today to schedule an appointment with one of our Dental Hygienists.
403-269-1087