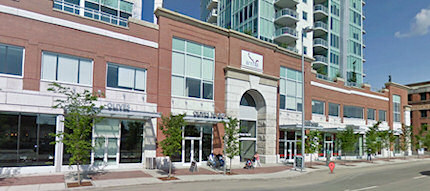 Suite 248, 1111 Olympic Way SE Calgary, AB T2G 0E6
On the second floor of the Arriva Condo Tower, two blocks north of the Saddledome.
Parking:
Parking is available on the first parkade level of the Arriva Tower. Enter the parkade on the rear of the tower between 11th and 12th Avenues and enter the code.
If you do not have the code, please call reception at 403-269-1087.   Stalls # 64, 65 and 66 are marked with "Pinnacle Dental Arriva" and are free for our patients.
Hours of Operation:
Monday 7:30am – 7:30pm
Tuesday 7:30am – 7:30pm
Wednesday 7:30am – 3:30pm
Thursday 7:30am – 3:30pm
Friday 8:00am – 1:00pm
Saturday by appointment only
Contact Information:
Phone 403-269-1087
Fax 403-269-3157